Henri Pittier National Park
Where the Rainforest Meets the Caribbean
Just a few hours west of the Venezuelan capital of Caracas lies another gem of the country's 43 national parks: Henri Pittier National Park. Thanks to the pioneering efforts of Swiss biologist Henri Pittier, who worked to preserve the area from deforestation and burning, the mountainous region along the northern coast became Venezuela's first national park in 1937.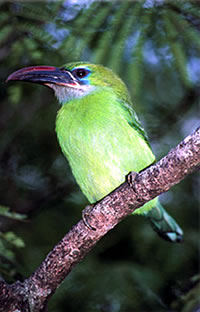 Originally called Rancho Grande, the park has been known as la Parque Nacional Henri Pittier since 1953. The park covers 107,800 hectares (416 sq mi) and extends south from the Caribbean coast into the mountains almost as far as Maracay, the capital of Aragua State. The less-developed Caribbean side includes crescent bays and beautiful beaches at Cepe, Cuyagua and Choroní. Along this coastline are many excellent spots for snorkeling, diving, relaxing on deserted beaches or simply enjoying hikes into the surrounding rainforest. The park's dramatic topography is characterized by steep slopes covered with deciduous and tropical forest and cloud forest at higher elevations.
Abundant flora flourishes in the park – arboreal ferns, bromeliads and ornamental plants, including the rare, endemic Gunnera pittierana. Animal life is equally diverse and the park is home to puma, ocelot, howler monkeys, otter, brocket deer, tapir, kinkajou, coati, tree porcupine, snakes, lizards and the marsupial frog. But the park's wildlife truly shines in its bird diversity.

Because the park lies on a significant migratory route, the bird population is incredible. Some 550 species (more than 40% of Venezuela's 1380 bird species) have been identified here, one of the highest recorded species densities in the world. The list includes curassows, parakeets, hawks, eagles, kites, toucans, oropendolas, parrotlets, owls, bellbirds, manakins, jays, caciques, chachalacas and woodpeckers. Portachelo Pass is the lowest point on the ridge, and is used as the crossing point by thousands of migratory birds each year, making it the best birdwatching spot in the entire park.
A biological research station (Estación Biologica de Rancho Grande) and zoological museum are located within the park and open to visitors. The park can be reached by bus or taxis from Maracay, and is a popular venue for hiking and camping. The rainy season is from April to November, and the dry season from December to March.
Interested in seeing more of Henri Pittier National Park? Angel-Eco Tours offers multi-day packages to its Coral Lagoon Lodge located along the Caribbean shoreline – whether you want to dive, snorkel, hike, birdwatch or paddle, you'll find plenty to do and plenty to see.